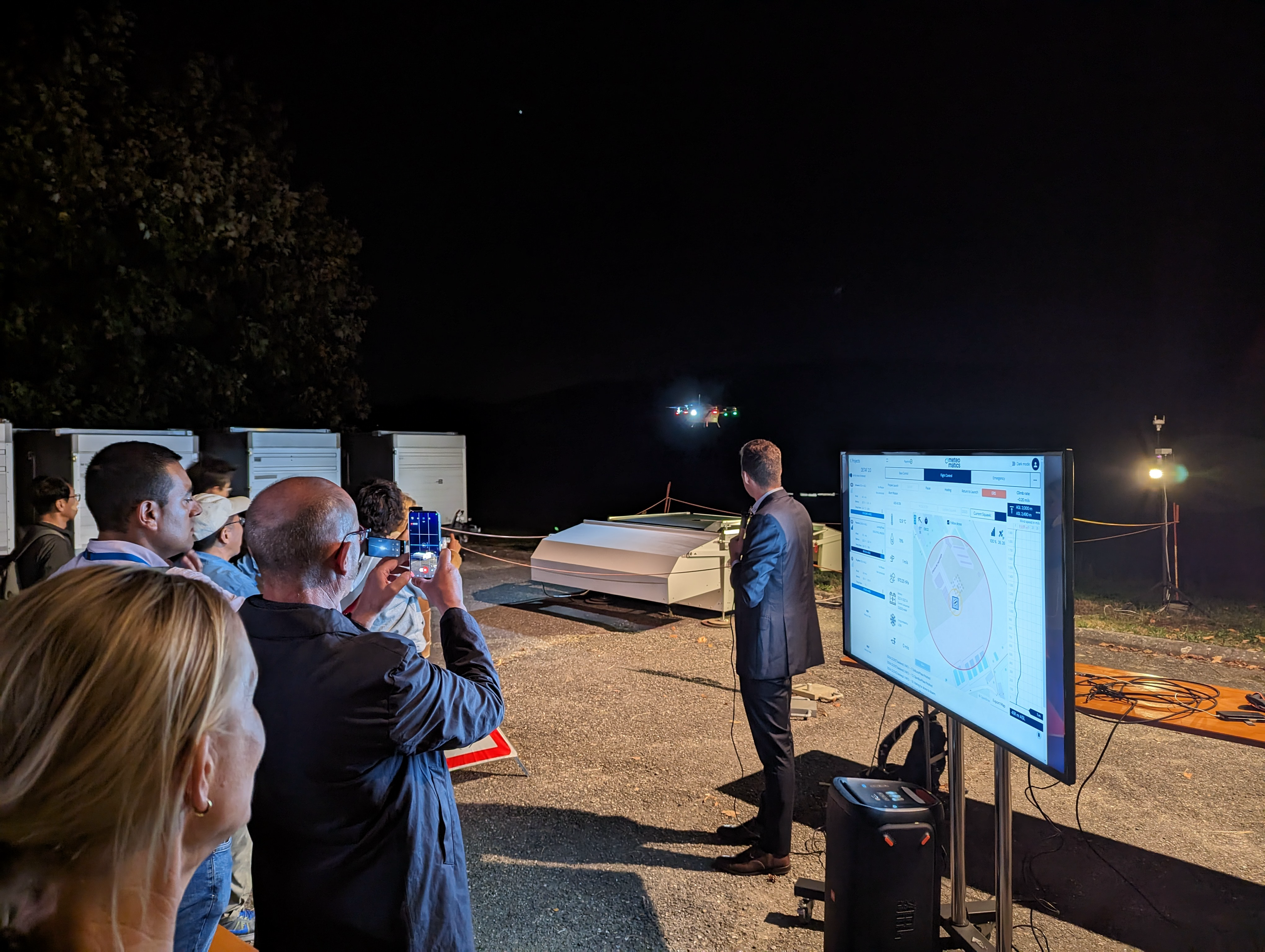 A Meteodrone and Meteobase demonstration in Payerne (Switzerland) – Meteorological Technology World Expo 2023
Meteomatics' participation in the Meteorological Technology World Expo 2023, the world's premier exhibition for meteorological, hydromet, metocean, and environmental monitoring technologies and services, held in Geneva, Switzerland, was a significant event this year. During the Expo, the team organized a demonstration of their cutting-edge Meteodrone and Meteobase technologies at MeteoSwiss' facilities in Payerne, just an hour's drive from Geneva.
The Meteodrone, a remarkable weather drone engineered and produced by Meteomatics in St. Gallen, Switzerland, is designed to operate at altitudes of up to 6 kilometers above the Earth's surface. It specializes in collecting meteorological data from the boundary layer of the atmosphere, a feat unmatched by any other weather instrument. Notably, Meteodrones are engineered to thrive in adverse weather conditions, including freezing air, thanks to their anti-icing propellers. Meteodrones are emerging as compelling alternatives to radiosondes due to their cost-effectiveness, flexibility, and superior eco-friendliness.
The Meteobase serves as a ground station, offering localized support for the operation of Meteodrones. It functions as a communication hub, fostering continuous interaction between the pilot and the drone, while also serving as a control center for autonomous flights. Among its capabilities, the Meteobase can autonomously monitor and log weather parameters at the deployment site, facilitate the launch and landing of a Meteodrone, and serve as a recharging station for the drone. Furthermore, it maintains an internal climate control system, incorporating heating and air conditioning to ensure optimal environmental conditions for the Meteodrone, its electrical components, and batteries. Remarkably, the Meteobase is designed to withstand diverse weather conditions, being both waterproof and snowproof.
At the Expo, Meteomatics showcased two Meteobases, one located at their booth inside the exhibition building for all event participants to see and another operational Meteobase in Payerne, serving as the ground base for the Meteodrone during the live demonstration.
The demonstration took place in the evening, during the authorized operating hours for Meteodrones in Switzerland. From 22:00 until approximately midnight, the Meteodrone flew up to 2 kilometers in the atmosphere. Throughout the demonstration, the Meteodrone collected real-time data, which was showcased on a high-resolution screen for the benefit of the event's attendees, including representatives from various industries, private, and public global institutions.
In the framework of the MAGDA project, Meteomatics is actively planning to install Meteobases in strategic locations in France, Italy, and Romania. They are currently focusing their efforts on obtaining cross-border approvals from local authorities, a crucial step that will enable them to operate Meteodrones seamlessly across these regions.
Watch an exclusive interview with Dr. Martin Fengler, the Founder and CEO of Meteomatics, where he provides insights into the capabilities of Meteodrones as part of the Expo's media coverage: Interview